Make calls
How can I make calls?
Download the free Sonetel Android or iPhone app, sign in, and start calling. 
With the apps you can call your regular contacts as well as any phone numbers worldwide at the cost of local calls.
The app automatically sets up a local call in your country between your mobile and Sonetel's network, as well as a local call in the country you want to call, and then bridges the two calls together – negating the need to pay for an international call. This also ensures a superior call quality.
The local call in your country is either be done with Call thru (your phone calls us) or with Call back (we call your mobile phone). Call thru works in many countries. Call back works worldwide.
This basically means that you pay for two local calls when making international calls.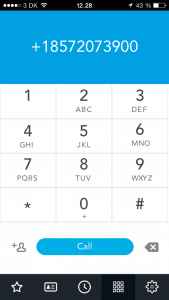 Using IP-telephony
The more technically savvy users can also connect IP-telephony phones to the Sonetel service. This can be software or apps in mobiles or laptops or physical desktop phones for use at the office.
Please note that IP-telephony across mobile broadband is not recommended due to audio delay and other issues in your network. Even WIFI may provide quality problems for calls from time to time. IP-telephony use can also run into problems with Firewalls and Internet routers. This is why we generally advice customers to not use IP telephony.