Make calls
What is Call thru?
Call thru is a calling method available in our Android and iPhone app. It can be used in over 50 countries.
When you make international calls with our app in Call thru calling mode, the app will automatically make a regular mobile call to Sonetel's local access number in your country.
From there on you will be connected to the international number you called.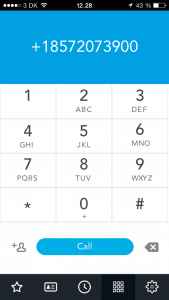 This means that you will pay your mobile provider for the local call in your country  – if you have free minutes with your provider then this call will be free.
You will additionally pay Sonetel for a local call in the country you are calling to – in accordance with Sonetel's price list.
If you have Premium, this call will be free or discounted (dependent on the destination) .
The Call mode can be changed in the app – but in some countries only Call back is available – in which case Call thru cannot be selected.
Countries where call thru is available:
Argentina
Australia
Austria
Bahrain
Belgium
Brazil
Bulgaria
Canada
Chile
Cyprus
Czech republic
Denmark
Dominican Republic
El Salvador
Estonia
Finland
France
Georgia
Greece
Hong Kong
Ireland
Israel
Japan
Latvia
Lithuania
Luxembourg
Malta
Mexico
Netherlands
New Zealand
Panama
Peru
Poland
Portugal
Puerto Rico
Romania
Russia
Singapore
Slovakia
Slovenia
South Africa
Spain
Sweden
Switzerland
Ukraine
United Kingdom
United States
Manual Call thru
Manual call thru will reach End Of Life during the first quarter of 2018. The exact date will be published later.
Using manual call thru is nothing we recommend. It is an old approach we offered prior to having the apps. It is not user-friendly.
If you don't have Android or iPhone, you can still use call thru by following these steps.
Call a local phone number (see below) to reach the Sonetel Phone System.

Identify yourself with the credentials

Enter the international phone number you want to call.
You can find your credentials for manual Call thru here: Sign in at www.sonetel.com –> Click on your name in the left menu –> My account details.
Account ID is mentioned under "Call thru"

Extension is the 3-digit free internal number listed under "My Phone Numbers"

PIN is mentioned under "Call thru"
The second time you call, the system will recognize the number you are calling from and only ask for your PIN.
Each user has a short number list with 2-digit short numbers that can be dialed instead of entering a long phone number.
Here is a list of the access numbers:
Argentina:

+541152391365

Australia:

+61280155253

Austria:

+43720881478

Bahrain:

+97316199849

Belgium:

+3225880224

Brazil:

+551139584965

Bulgaria:

+35924917079

Canada:

+14388002487

Chile:

+56229381813

Cyprus:

+35722022673

Czech republic:

+420228880644

Denmark:

+4569960351

Dominican Republic :

+18296072144

El Salvador:

+50321133872

Estonia:

+3726680353

Finland:

+358942599586

France:

+33975180800

Georgia:

+995706777314

Greece:

+302111980803

Hong Kong:

+85258083139

Ireland:

+353766801021

Israel:

+97237630192

Japan:

+81345782199

Latvia:

+37166163204

Lithuania:

+37052140248

Luxembourg:

+35220881159

Malta:

+35627780148

Mexico:

+525511689661

Netherlands:

+31858881057

New Zealand:

+6499250321

Panama:

+5078365956

Peru:

+5117059739

Poland:

+48223970440

Portugal:

+351308801568

Puerto Rico:

+17879317232

Romania:

+40318142237

Russia:

+74999184251

Singapore:

+6531582682

Slovakia:

+421233215517

Slovenia:

+38618888395

South Africa:

+27875509222

Spain:

+34911231747

Sweden:

+46852506065

Switzerland:

+41225180134

Ukraine:

+380443607309

United Kingdom:

+442033182922

United States:

+12026815905