How it works
What do the Meeting minutes include?
The meeting minutes always come with these sections:
Name of meeting


The purpose and topic of the meeting is summarized in a few words.

Summary


We provide a fairly detailed summary of what the meeting was about and what the main talking points were.

Agreements


All agreements made during the meeting are listed in a bulleted list.

Suggestions


All suggestions made are listed in a bulleted list.

Action items


Everything that requires a follow up after the meeting is listed in a bulleted list.

Detailed summaries


Each topic discussed is summarized under a separate header.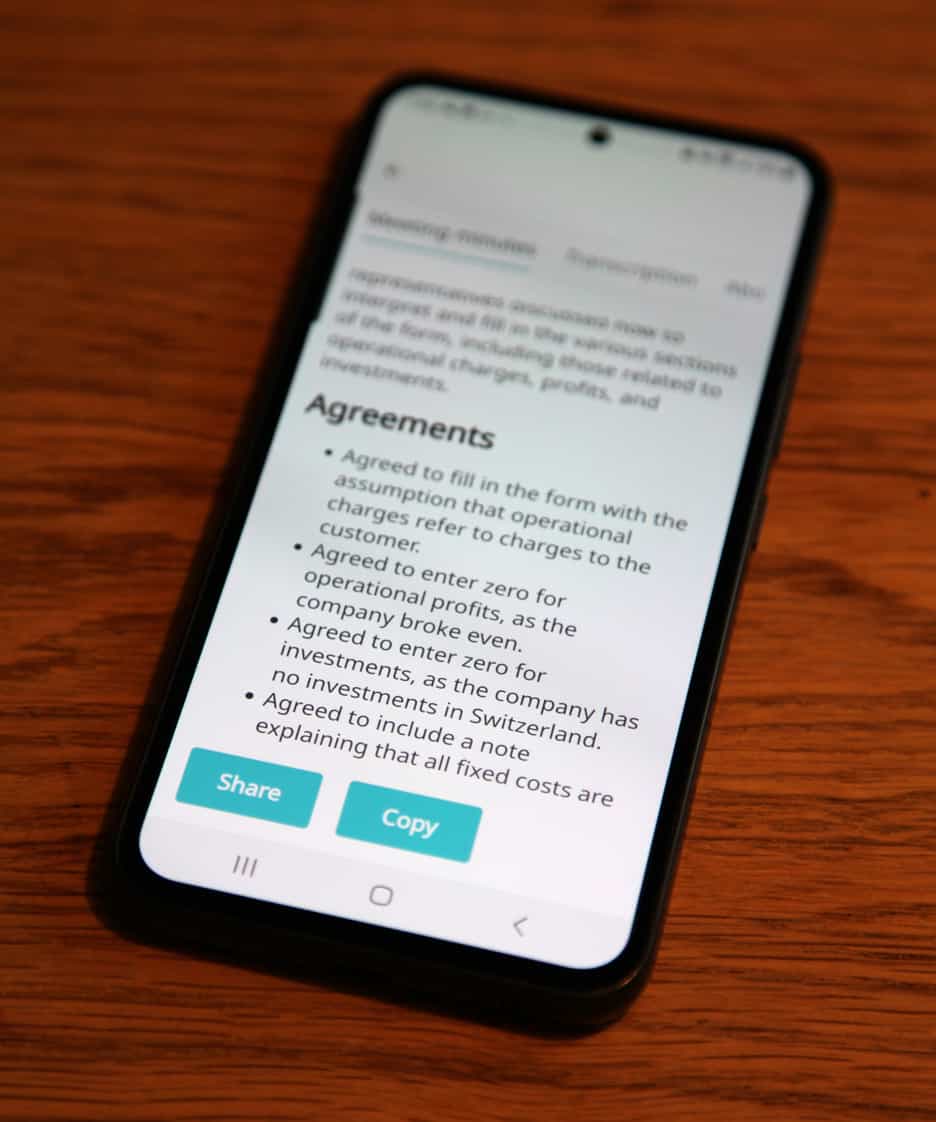 How can I get the meeting minutes?
It just takes a few minutes to get the the meeting minutes.
Record the meeting


For video calls, start the recording function provided by that provider. Download the recording after the meeting. In case of in-person meeting, use the audio recorder in your mobile. 

Upload the recording
If you're on your laptop upload via the web app. If on your mobile, use the Android or iPhone app. Click on the Robot icon. Select Meeting minutes and  "+" .
Copy the Meeting minutes


After a few minutes you will be notified that the minutes are ready. Click on the recording, and use the "Copy" button. 

Send to participants


Paste the meeting minutes into an email or whatever you prefer and send it to the participants.
What does it cost?
You can try the service for free during 10 meetings. Thereafter you will have to get either the Premium Plan (from $9.95 per month) or the Business Plan (from $29.95 per month), dependent on your needs.
If you have the Business Plan, the price per meeting is about $0.45.
More information about prices can be found here.
How do I pay for the service?
If you are on the free plan you do not need to pay anything. If you have a paid plan you pay for subscriptions in advance using Credit Card, Paypal or similar. Future charges are deducted from your registered payment method. You can request to get an invoice to refill your Sonetel prepaid account with an amount you choose, from which renewal charges can be deducted.
Enterprise customers get invoices in advance, with customary payment terms.
How many meetings can I have?
With the Free plan, you have about 10 free meetings, to test the service initially.
With Premium each user can have about 13 meetings on average per month.
With the Business plan, each user can have about 65 meetings on average per month.
The amount of meetings per month is shared across your company. This means that some users can have more meetings while others have less. If you have the Business plan, the service will never stop – even if you have used up all your meetings. The details of how this works is described in the section below about AI credits.
What are AI credits?
All AI services provided by Sonetel consume AI credits. Meeting minutes cost 75 AI credits.  Free accounts get 1 000 AI credits when the account is created. Premium plan provides 1 000 AI credits per month and user while Business plan provides 5 000 AI credits per month and user.  AI credits are pooled in your company, which means that some user may use more and others less. When your AI credits are used up, AI services stop working – unless you are on the Business plan. There, AI credits get automatically refilled from a prepaid account at $1 per 100 AI credits. Enterprise plans work differently.
Is my data safe?
Yes. We follow strict measures to protect your data in accordance with GDPR.  Data is always encrypted when stored and transferred. You can read more in our Privacy policy and our Data Processing Agreement which follows GDPR. Our sub-processors that handle data are listed here. We do not share your data with any other parties
What languages are supported?
Dozens of languages are supported including Dutch, English, French, German, Hindi, Indonesian, Italian, Japanese, Korean, Mandarin, Norwegian, Polish, Portuguese, Spanish, Swedish, Turkish and Ukrainian. The service automatically detects the language of the meeting and provides the meeting minutes in the same language.
How are the meeting minutes generated?
Your audio or video file is first transcribed by one of our partners. The language spoken in the meeting is identified. The transcript is then sent to GPT-4, a Large Language Model provided by Open AI for the generation of the Meeting minutes.  We also send along a summary of your business written by our AI based on  your website. This helps the AI write better meeting minutes as it better understand the context of the meeting. In case of longer meetings, we break the transcript into sections before sending it to GPT-4, and then merge the output into one single set of Meeting Minutes, which is formatted with headers, sub-headers and bulleted lists.
How are the meeting minutes different from transcriptions?
A transcription captures every word said. Our meeting minutes summarizes what was expressed in condensed bullets and summaries. Reading a transcription is a time consuming and daunting task. Reading our Meeting minutes is easy.
Are there any limitations?
Meetings can be max 10 hours long. Media files can be be max 2GB.
How can I delete a meeting?
When viewing the minutes of a meeting, there is a Delete button in the upper right corner that can be used to delete recordings and data. On the main view for meeting minutes, there is also a configuration option for auto-deletion of meeting minutes after a length of time that you define.