SIP Call Recording
Managing the call recordings from your SIP trunk
If you have activated call recording on your SIP trunk, this is how you find the recordings and manage them.
There are two ways to manage call recordings from your SIP trunk:
Via a web portal


Sonetel's web portal provides access to call recordings on screen. See below for more information.

Via an API
Sonetel's API

allows you access to call recordings, and with an ability to download, delete etc.
Managing call recordings via the web portal
The recordings are available via our old customer Portal. There you can see a list of all your call recordings, listen to them, download them and delete them in the call recording section.
Your Call recordings are shown in the Call Recording section shown after you sign in to our old web portal.
Click on View next to a recording to open it.

You can listen to the recording, download it or delete it.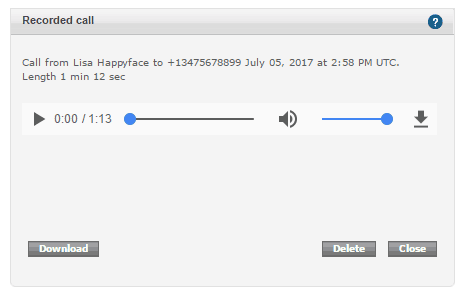 Admin users can see all call recordings account-wide. Each user can see their personal recordings.
Recorded calls may include the ringing or early media played by local carriers before the call is answered.