Telephony
Make calls
You can make free calls to team members and other Sonetel users. You can also make regular calls to contacts and regular phone numbers worldwide at the cost of local calls.
You make calls from the web app, Android app and iPhone app.
You can initiate a call from anywhere in the apps by clicking on the phone icon.

Optionally, you can use the option for starting calls found in the Conversations list.
Start a call
To start a call to a team member, contact, customer or phone number – click on the "+" icon above the conversations list.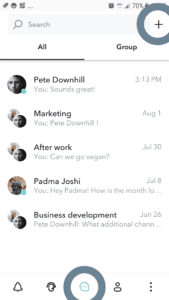 Select the New call option in the menu that appears.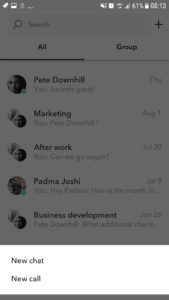 This will open the New call view.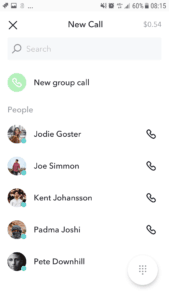 In the New call view that follows, you have the following options.
Search or enter number


Enter a phone number or search for contact in the Search field. You can search for team members, mobile contacts and customers by name.

New group call


Allows you to add team members, mobile contacts and customers to an instant conference call. Please note that all invited parties will be called immediately and be added to a new conference call. 

Select from the team list.


Click on the phone icon next to a team member in the list.

Dial pad


To activate a classic dial pad, click on the dial pad icon.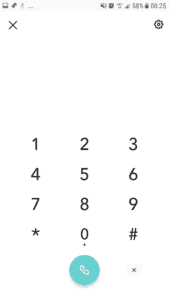 Instant group call
If you select to start an instant group call you will be offered to select from a list of team members.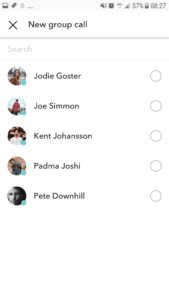 In the Search area, you can search among Team members, mobile contacts and customers that you want to have added to the group call.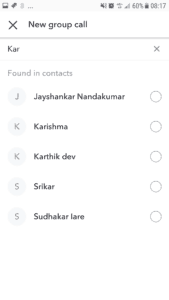 Call options
Whenever you initiate a call to a team member, contact, customer or phone number – you are presented with a similar set of call options.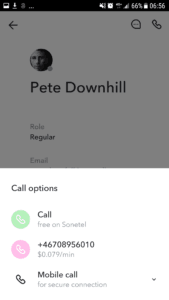 Call free on Sonetel
This option is offered if the person you are calling is a Sonetel user. The call will go across the Internet between you and the person you call. The person called may however have their  call forwarding settings send the call onward to their mobile. If the person called is in another company, they would pay for that call forwarding. 
Call to mobile/landline across the Internet
With this option, the app will connect your call across the Internet/WIFI to Sonetel. Sonetel will thereafter set up an onward call across the regular telephone network to the number you want to call. The cost of the call per minute is specified.
Mobile call


If you prefer to have a more secure connection with more dependable audio quality, Sonetel can optionally set up a mobile call to you and an additional call to the number you are calling – and then bridge those calls together. This provides a more reliable call quality and is recommended for business calls. The downside is that you may have to pay for two calls.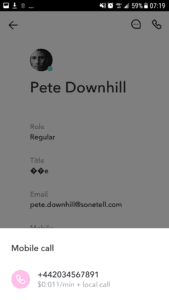 The method used for making an end-to-end mobile call with more dependable quality – can either be:
Call back


Sonetel calls you + the person you want to call and charges you for both the calls. The calls are bridged together automatically.

Call thru
The app asks your phone to call the Sonetel local access number in your country. Sonetel then automatically places an additional call to the destination and connects the two calls together. Call thru is supported in more than 40 countries. You pay your mobile provider for the call to Sonetel, but if you have free minutes in your plan with them, then there is no cost for the call to Sonetel Sonetel only charges you for the local call to the destination number.
You can see the call charges here.
In your
Call settings
it is possible to select if you want to make calls with Call thru or Call back. It is also possible if you have a preference for Internet calls or mobile calls. This preference defines which options that should be shown on top in the call options menu.
Call a team member
You can start a call to a team member via the team list.
Click on the people icon to see the Team list.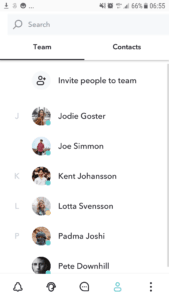 Click on a team member to see their profile, and then click on the phone icon (upper right).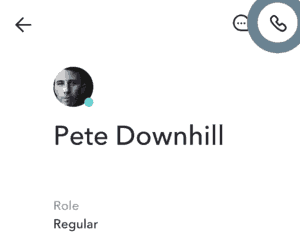 You can also call team members from within your conversations with them.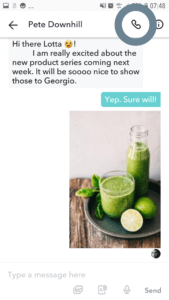 Call a mobile contact
Go to the People section of the Android or iPhone app and click on Contacts.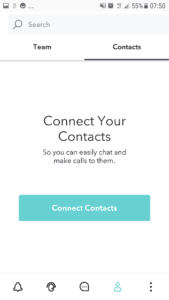 If you select Connect contacts, we will save your contacts centrally, and make them available to you via the web app as well for making calls.
We will also identify contacts (based on email address and mobile number) that are Sonetel users, and mark them as Free to call.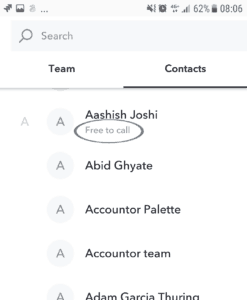 To call a contact, click on the contact and then on the phone icon in their profile.
Recent calls
Each unique phone number you call to – or receive a call from – generates a conversation in the conversations list. This is where you will find call recordings and logs of calls made or received.
In each such Conversation it is possible to click on the phone icon to start a call to the same person/number.