Phone Numbers
How can I configure a phone number?
When you sign in at sonetel.com you have the ability to configure your phone numbers.
All your phone numbers are shown in the Phone numbers section – which is the first thing you see after signing in.
To configure a phone number, so that incoming calls are connected to the right person/destination, click on Change next to the phone number, in the Phone numbers list.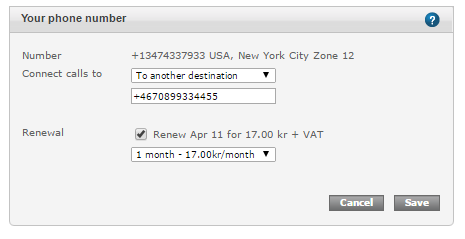 Number.


Your phone number shown in the international format followed by the country and city or number-type of the number.

Connect calls to.


Where should incoming calls be connected? Select one of these choices.

Nowhere.


Calls to the phone number are ignored. The caller will get an error message that the number is not valid.

To a user.


If you select this option, another drop down menu will appear with all th

e users

(staff members) in your company. Calls will go to the IP-phone(s) of that user – and if they don't answer, calls will be forwarded to whatever destination they have chosen.

To a Voice application.


Connect the phone number to a Welcome menu for callers. A second drop down menu appears for selected Welcome menu (in case you have more than one).

To another destination.


Enter a telephone number, extension number, email address of another Sonetel user.

To SIP.


Enter any 

SIP-address

. Formats supported are the same as for making calls.

Renewal.


The Renewal options

 are described here