Make calls
What does it cost?
You can make international business calls at the cost of local calls. The exact cost depends on how you make the call. 
Our prices for connecting calls to any country can be found in our price list. The prices are generally significantly lower than consumer services – although our service comes with business quality.
Calling with the Sonetel apps
When you use our Android or iPhone app to call, they set up two local calls; One local call between your phone and Sonetel in your country, and another local call in the country you are calling to.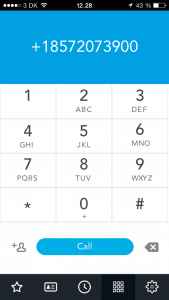 The two local calls are bridged together automatically in Sonetel's system, removing the cost for the international part of the call.
There are two optional call modes available in the apps. This is what they cost to use.
Call back mode
If you call with an app with the call mode Call back, Sonetel will charge you for 

both the local calls

.
Call thru mode


If you instead call with the call mode Call thru, you will pay your mobile carrier for the local call in your country, and Sonetel for the other call.




In case you have a plan with your local phone company, allowing you to make free calls within your country, this means that you only need to pay Sonetel for the local call in the country called – if using Call thru.
The prices for the local calls can be found here.
All call charges are charged for each initiated minute.
Calling from a VoIP phone
If you instead make calls using an IP telephony phone of any type, you only pay Sonetel for the local call in the country called.
IP telephony calls between users are free.
Please note that IP-telephony across mobile broadband is not recommended due to audio delay and other issues in your network. Even WIFI may provide quality problems for calls from time to time. IP-telephony use can also run into problems with Firewalls and Internet routers. This is why we generally advice customers to not use IP telephony.