Company settings
How can I verify my account?
If you purchase phone numbers from Sonetel you will need to provide information about your address and identity – and possibly some proof.
Here is a short video that explains how you can verify your account.
Step-by-step instructions
To access the Account verification follow these steps:
Sign in
Sign in at sonetel.com.
Select "Company Settings"
Click on the setting icon, bottom left in the screen and select Company Settings.
Select General Settings -> Account verification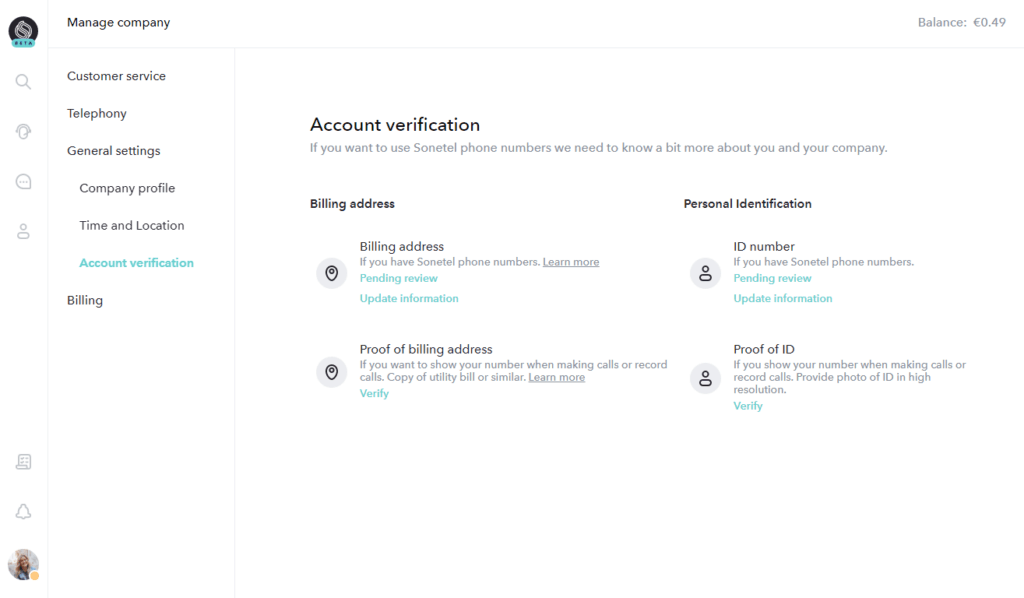 The following types of info is always required if you have a Sonetel phone number:
Billing address


The address can be anywhere worldwide.

ID number


Your personal ID number.
The following additional information may be required additionally:
Proof of billing address
If you want to be able to make calls from your number (show the Sonetel number to people you call) you will also need to provide proof of the address. Proof may also be required for other reasons. The proof can be a utility bill or bank account statement where your name and the address is clearly shown. The Proof may not be older than 6 months. 
Proof of ID
If you want to show the number to people you call – or record calls – you will also need to provide a copy of your ID, in high quality and color. In some rare cases our regulations team may also require you to provide a selfie of yourself, holding the ID next to your face.
Selfie with ID


A photo of you holding your ID next to your face.

Company ID
Your corporate registration number and copies of your corporate registration documents. Only needed if requested.

Company registration documents


A copy of your company registration documents.
Any information that is mandatory, will be marked red. You will be able to see the approval status of the information/documents provided, and can upload new documents in case the old ones were not approved.
We are required by local authorities to keep track of who uses each number, and to take measures to minimize abuse of phone numbers.
Documents accepted
Here is a list of the documents that are usually accepted for verifying your identity or address information.
When verifying information for activation of a phone number, some of the documents listed below may not be accepted due to local restrictions. If you have questions, please
contact us
.
ID proof 1
Passport

Driving license

National ID card

Residence permit

Any other government-issued photo ID.
Business registration document
Incorporation certificate.

Business registration certificate issued by the local government.
Address proof 2
Bank account or credit card statement.

Utility bill e.g., telephone, electricity, gas or similar.

Lease agreement (only if the lease is valid for at least three more months)
Important information:

1,2 – For business use the proof of address should be in the company's name and the ID proof should be of the company's authorized representative.

All ID proof documents must be valid for at least 3 more months when submitted to Sonetel.

Address proof documents must not be older than 3 months when submitted to Sonetel.
How long does it take to get my account verified?
The verification process is usually done within 1 business day.