Configuration guides for SIP phones
How to connect Eyebeam to Sonetel
Eyebeam is an older discontinued SIP phone that is still being commonly used. It can still be connected to Sonetel for making and receiving calls. It works with Windows.
Here are the instructions for how to connect Eyebeam 1.5 to Sonetel.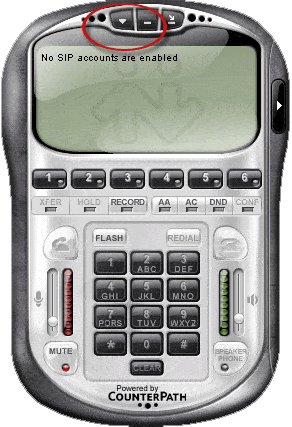 Start Eyebeam
Click on the menu option and select Account settings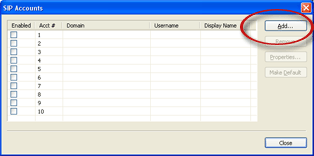 Click on 'Add' to add a new account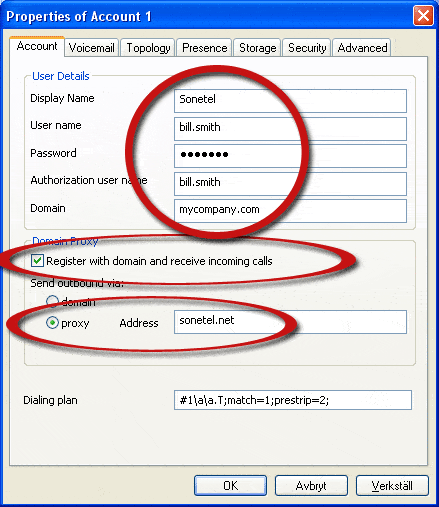 Fill in these details on the Accounts page.
Display name. Enter Sonetel
Username. Enter the first part of the user's email address.
For example; if email address is john.smith@mycompany.com enter john.smith.
Password. Enter the user's Sonetel password.
Authorization username. Enter same as in User ID (see above).
Domain. Enter the domain in the user's email address (i.e. the email address used as Sonetel user ID).
For example, if email address is ali@mycompany.com enter mycompany.com
In the Domain/Proxy section
Select Register with domain and receive calls.
Select Proxy.
Enter Proxy address sip.sonetel.com
Go to the Topology page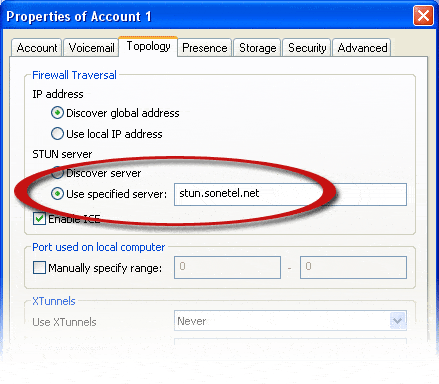 On the Topology page.

Select STUN server -> Use specified server
In Server address enter stun.sonetel.net
Press OK
1-way audio problems
Verify that your microphone is properly connected and functioning. Use another application like Windows Sound Recorder (Start | Programs | Accessories | Entertainment) to verify. You may need to ensure the microphone is | selected as the audio input device in Control Panel | Sounds and Audio Devices | Audio | Sound Recording | Volume.

Verify that the microphone is currently selected (Options | Devices page in eyeBeam/X-Lite, Preferences | Devices page in Bria).

Call yourself and start speaking and verify that the microphone VU meter is moving up and down to see if your microphone is being detected. Press the record button and verify that you are being recorded.

If you still have no audio, please try the following:

Dial ***7469 (SEND)

Filter for honor

Double click on the honor line and change the value to 1

Save and restart.

If you still have problems, contact

 Customer service
Our support does not include help with SIP phones. We can however assist you for a
small extra fee
.