Telephony
Configure phone numbers
You can manage and configure your phone numbers at the Phone numbers page in the Sonetel web app. 
In this article, we will explain what the available settings are.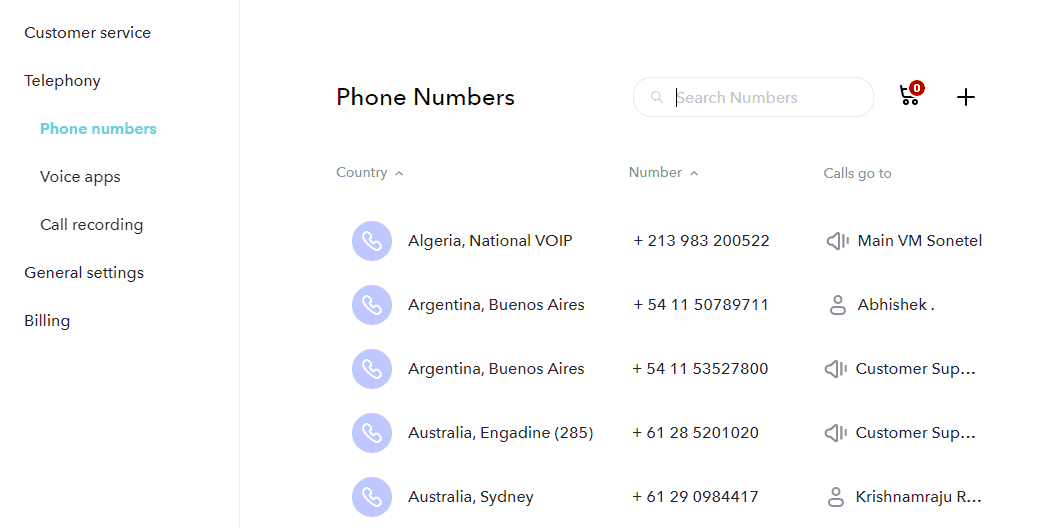 Where can I find my phone numbers?
To find your phone numbers click on the

Settings cog in the bottom left corner of the screen and select "Telephony settings". This will bring you to the phone numbers page.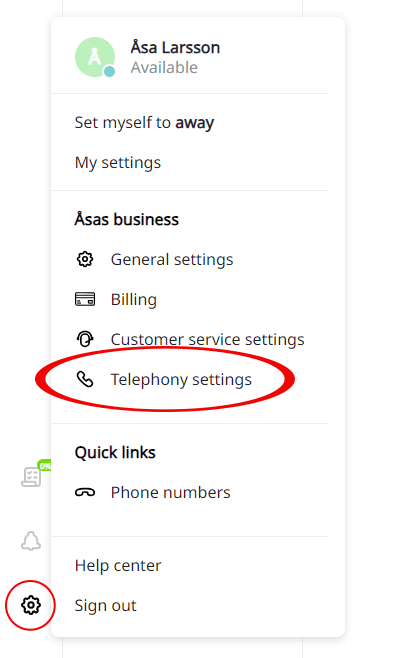 Search among numbers
If you have many phone numbers, you can search on country, city name or number by using the Search function above the list.
Number settings
Click on a phone number in the list to open a window on the right hand side with the options for the phone number.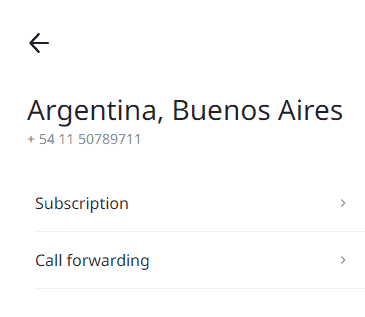 The options shown may vary, but the options "Number details" and "Call forwarding" are generally always visible.
Number details
In the Number details section you find information about the subscription and costs.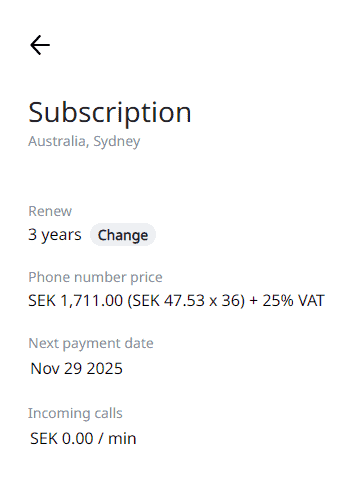 Renew
Defines what the type of subscription that will be applied on the next renewal date. Click on Change to see the options and change the renewal cycle – or cancel renewal.
Phone number price
Shows the total renewal cost and the cost per month for having the number . If you have a number that is Free for website or free with Premium – the monthly cost is 0. VAT is only added for EU companies that have not submitted VAT ID.
Next payment


Shows how much you will be charged at the next renewal date. If you have a 1-year or 3-year subscription, you will be charged 12X or 36X the monthly cost at the renewal date.

Incoming calls


Shows the cost per minute for incoming calls excluding any cost for call forwarding. Incoming call charges usually only apply in case of toll free numbers.
If you select "Change" under "Renew" you will get a dialogue box with the different renewal options for your phone number subscription.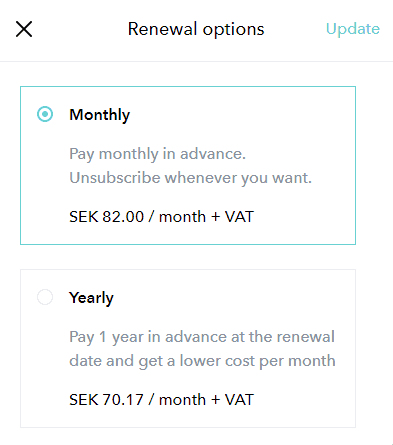 The following renewal options are available:
Free with Plan


There is no recurring fee for the number if you have Premium or Business plan. With Premium you can have as many free numbers as you have users. With Business plan you can have five times as many free numbers as users. You cannot change to this subscription type manually. The system will move numbers automatically to this subscription type at their renewal date if they are eligible. You can however choose this subscription type when purchasing new numbers.

Free for website
The number has no recurring fee if it is free for website. Requires you use the Sonetel free chat function actively at a business website that has a unique company domain. You cannot change to this type manually. You can however select this subscription type when getting a new number.
Monthly


You will be charged a monthly renewal fee at the next renewal date. If the number currently is "Free for website", it will change to "Monthly" immediately and you will be charged right away.

Yearly


You will be charged 1 year in advance at the next renewal date – or immediately if the number currently is Free for website.

3 years


You will be charged 3 years in advance at the next renewal date – or immediately if the number currently is Free for website.

Do not renew


The number will expire at the next renewal date. You will not be charged any additional renewal fees.
Call forwarding
Each phone number can forward calls to any destination of choice.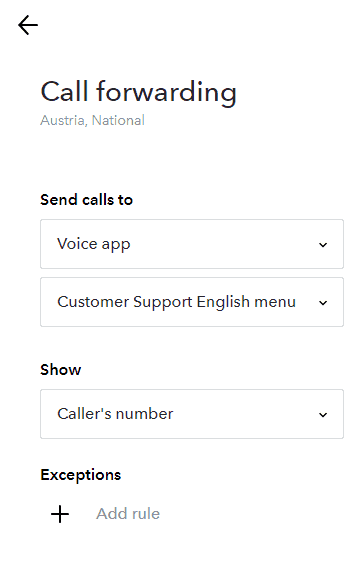 Send calls to
You can send calls to the following type of destinations.
User
Select a Team member from the drop-down list. Incoming calls will be connected to the user in accordance with the user's call settings for incoming calls. The user will also be able to show the number when making calls – as long as your company account has been verified to allow this.
Team (coming soon)


The call can be connected to a customer service Team of your choice. Calls will be held in a queue if all team members are busy.

Phone number
Enter any phone number worldwide that calls should be connected to. Call forwarding is charged at the cost of local calls. You can enter numbers in the local format of the country defined in your company account settings – but to be on the safe side, we suggest you enter numbers in the +NUMBER format (E164).
Voice app


Connect the call to an announcement, voice menu, or voicemail box.

SIP-address


Only for advanced users. Enter a valid SIP-address that calls should be connected to.
Show
Select what phone number that you want to see when an incoming call is forwarded to your mobile number or landline.
Caller's number


You will see the phone number of the caller when you receive the forwarded number on a mobile or landline.

Called number


You will see the Sonetel phone number called when answering a forwarded call on a mobile or landline.
The setting is only shown when the call forwarding destination allows for showing of calling number to be controlled.
Here is a video that explains how to configure the call forwarding settings of a number.
Only phone numbers that are free with
Premium
or with
business package
enabled can forward incoming calls to a Team or a Voice app.
Record & transcribe
If you have enabled call recording company wide, the option for enabling this per number appears as well under each number.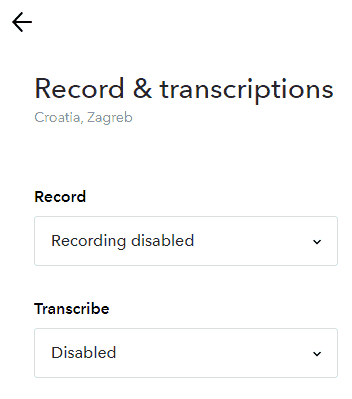 Recording options
Recording disabled


Calls will not be recorded unless a Team member receiving calls activates call recording for themselves.

All calls


Both inbound and outbound calls will be recorded.

Calls we receive


Only incoming calls to the phone number is recorded.

Calls we make


Only outbound calls where we show this number to the called person – will be recorded.
Call recordings made are currently only available in the old customer portal.
Documents required
Local telecom authorities in different countries have different requirements on who is allowed to have certain types of phone numbers, and what documentation that is required.
The "Documents" option will only be visible if your number is subject to special local document requirements.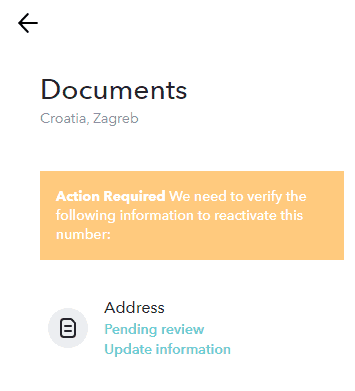 What is needed varies from country to country, but common things are:
ID


ID number (passport, drivers license etc.)

Proof of ID


A high resolution photo or scan of the ID.

Address


The physical address of the subscriber.

Address proof


A recent copy of a utility bill or bank account statement, where the subscribers name and address is shown.
Please note that this information is required in addition to the information and documents that is needed in the
account settings
.
The information submitted will be forwarded by Sonetel to the local phone company for approval.